"TIP OF THE MONTH" with MICHELE YATES of RUGGED RUNNING~
There is no doubt that a women's body changes during pregnancy.  Her center of gravity shifts, her legs become more unstable, and her overall balance is decreased.   So how is she supposed to continue to enjoy her normal activities like hiking, running, and walking,  ESPECIALLY when the weather gets wet, icy, or muddy?!!!   My advice, GET A GRIP!…WITH ICESPIKES!
Pregnant or not, I've found that those nifty little ICESPIKES give me the trail, road, ice, mud, or even rock traction I need to complete my adventures SAFELY.  Not only are they easy to install, they provide a natural, light weight feel that won't drag you down.   What pregnant women needs more weight added to her feet to haul?
Depending on the conditions, I typically screw in 4 evenly on the upper part of my shoe for minimal to normal traction, whereas if the conditions are really icy, snowy or muddy, I will screw in 6 up top and 4 on the bottom.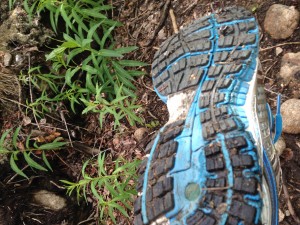 You can remove them very easily and with no damage done to your shoes.  Personally, I have two pairs of shoes I use for training.  One with ICESPIKES, and one without.   That way I'm good to go at any time in any conditions.
Don't forget about post pregnancy.  Carrying your little bundle of joy in a baby pack can also throw your balance off.  Stay safe and wear your ICESPIKES!
Michele Yates
elite runner, coach, personal trainer, with a Bachelor's in Kinesiology, and very soon to be mom 😉