Thanks Keith,
I use Icespike for iceboating and racing them.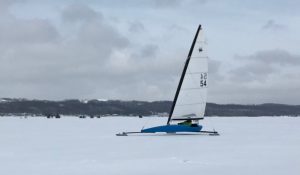 https://youtu.be/3FZTgJZ0ai8  Short Iceboat Video
Love your product. I found it through a pretty aggressive search on the net for something that would work well for running and in my workboots (the longer ones are perfect). I was using sheet metal screws and they work fine for walking around on the ice. But when we race we must push these boats from a stop and speed off the line is a great advantage and therefore you need grip (I was sliding all over the place with sheet metal and guys were running right by me). I didn't want to buy some spiked track shoe which some wear because they would be too cold and frankly I am not that good…yet. Anyway I changed from sheet metal to Icespike and the grip won't get any better so I am happy to say I can keep my warm boots on and start well. Some days the ice can be a smooth as glass and when the temps are in the single digits it is really hard.
Anyway, your product works great and you'll get an order soon from a friend and fellow iceboater who asked about mine.
Thanks again, Jeff