ICESPIKE'S September Tip of the Month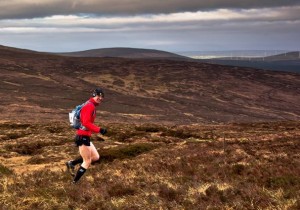 By Noel Paine: Writer, Runner and Dreamer
"Out on the roads there is fitness and self discovery and the persons we were destined to be." – George Sheehan
Noel Paine – writer, runner and middle-aged dreamer
"I am a runner and writer from Ottawa/Hull Canada with a passion for running and writing. I am sharing my thoughts, my writing and my adventures online for others. I have been running since I was 12 which now seems an awful long time ago. The hair line no longer starts where it used to; I am not far off being called a master (38 in 2013)."
Noel Is a Blogger and Writer for Runners World Canada and many other publications. He is a Canadian runner who has been running for over 27 years and has run everything from the 100m hurdles to 100 km ultra-marathons.
The other stuff to keep you on your feet
By Noel Paine
"Running and pushing yourself is like pushing the pedal down on your off-road vehicle day after day. The more miles and faster you drive, the more maintenance and upkeep you need."
When hitting the roads or trails for a run, the joy of the experience keeps us going back for more. Runners who are not professionals and have time set aside for other running-related activities often do not have a lot of time for things like stretching, cross-training or gear and things to keep them running smoothly along. Or we tend not to think we do.
The tip this month is to stop yourself for a moment and perhaps see if you need to fit time into your training schedule for things that will keep you injury free and happy. This is also a time to perhaps look at what you are wearing and using. Are there simple things you can to enhance your running?
A few minutes of thinking and making time for small things to accompany your running could save you from weeks of injury or frustration.
Small things to try or consider:
Can I squeeze in perhaps 5-10 minutes more before or after a run for stretching, warm-up or cool-down?
Can I do a few squats, planks, abs or pushups to stay strong and balanced?
My feet take a beating, am I taking care of them? Massage, moisturize, rest?
Can I avoid injury on the trail – use Icespikes, rotating and checking footwear?
Am I getting enough rest and sleep?
Am I hydrating enough?
Will a coach or training tool like GPS watch or fitness tracking tool like Polar Loop help?
Its all about maintenance and preparation. Treat your equipment (your body) well and get it the tools it needs to train well. In the winter or on trail, stay on your feet with Icespikes so you don't have to worry.
"Part of training properly at a high level is to make sure you have the right gear. If you have put in all the hard work and have lined up for a goal race, don't forget to put on the Icespikes if there is any chance of slippery terrain. Icespikes take the worry out of the race and you can concentrate on just hammering."
SEPTEMBER SPECIAL – LAST CHANCE FOR SAVINGS BEFORE FALL!
for our subscribers only!
20% off your entire order from now until September 30th
Use Coupon Code: noelpaine
Enjoy the last days of summer and fall running, walking and hiking on the trails with Icespike
This email offer may be forwarded – please pass it on!
www.icespike.com Or phone Toll Free: 877-677-3567
View email in your browser | Unsubscribe | Update your profile | Forward to a friend
Copyright (C) 2014 Icespike All rights reserved.
You're receiving our newsletter because you subscribed via our blog, website, or at one of the many events we've attended.
Icespike
PO Box 3281
Peterborough, New Hampshire 03458
Add us to your address book