We are thrilled to introduce a new contributor to the IceSpike blog: Michele Suszek Yates. Let us tell you more about Michele.
Michele Yates (nee Suszek) is a 30-year-old runner from Littleton, Colorado. Her most recent win was first female in the USA 100k Trail Championships. Her time of 10:08:48 is all the more impressive given how anxious she had been about her performance after suffering a respiratory infection a few weeks beforehand.
Michele is now looking forward to representing America at the World Trail Championships in Wales, UK, later this year. She says: "To be able to race in Wales is a dream come true.  It is such a blessing to represent my country and I am very proud to do so."
A natural born runner
Michele's achievements make for inspiring reading. In 2008, she took the prestigious title of Ms Figure Colorado in 2008 (a fitness competition). She is a two times Olympic Trials qualifier in the marathon and represented the US at the World Mountain Trail Championships in Tirana Albania in 2011.  She has completed more than 20 marathons, captured her seventh win in 2011 and holds numerous course records at elite level. Indeed, the Saucony-sponsored athlete had no less than a top two finish in each event that she competed in over the last year.
A bit of Michele's background
Michele began running while at school – and she took up long-distance running in middle school. During her time at high school, Michele took the title for Best Female Athlete.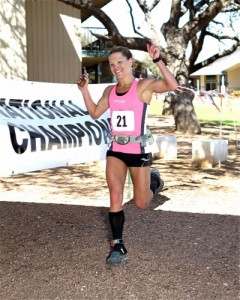 Moving to UNLV (the University of Nevada Las Vegas), she became the record holder of the steeplechase and indoor 5k. Michele graduated in 2005 with a degree in Kinesiological Sciences. Her focus during her studies was in fitness management.
After graduation, Michele asked her brother for a loan so she could move to Colorado, where she began running marathons.  Her success at this distance encouraged her to step it up to ultra distance events.
Michele believes her progression in running has come naturally. She says: "My passion for running has always been there and I have always wanted to be a professional athlete, so when I saw the opportunity to pursue it I did."
Personal training career
Michele's personal training journey began in 2003 with a paid internship at Club Sport Green Valley, Henderson NV.  Since then, she has accumulated several years of experience in group training, kids fitness, individual training, fitness club and personal studio management.  Her educational background and experience provides her with professionalism in nutrition, cardio, core, strength, flexibility, and ultimately running.
Find out more about Michele and her work at Dream Live Run And please do share this blog on our Facebook page! The more readers, the merrier!