ICESPIKE'S October Tip of the Month
By Chantal Warriner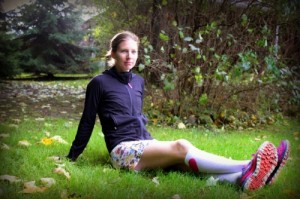 Chantal Warriner
PCP, ARHN, ROHP
Chantal Warriner is a paramedic who has been working for Simcoe County, Ontario, Canada since 2003. She is also an advanced registered holistic nutritionist (ARHN) who graduated from the Canadian School of Natural Nutrition and recognized by IONC as a registered orthomolecular health practitioner (ROHP). Chantal has a passion for natural living and loves to pass on this knowledge to anyone who wants to learn. She has been involved in nutrition since 2007 and is the founder of Refresh Nutrition.
When not working, Chantal loves to run. Chantal has been a competitive athlete for two decades, now specializing in ultra trail running. Her career highlights include 2014 Fatdog 70 miler winner, 2012 5 Peaks series champion and 2010 Masters Canadian Cross Country Champion, to name a few.
Hecticness to Peace in 15 seconds
by Chantal Warriner
Having a family is a rewarding and magical journey. Being a mom is one of my favorite things. I wouldn't give it up for the world. Saying that, it is important to me not to give up my running goals.
I have 2 young girls, age 3 and 5. I could tell you with certainty that my life is hectic. Toys, crafts, snacks, and activities are an hourly thought; not to mention laundry, dishes, dusting, and bathrooms!
So how do I go from being a busy mom to being a runner in 15 seconds? Well, it doesn't hurt the trailhead is only steps from my house. But in all seriousness, whether you live on the trail, or drive to your running route, the most important thing to do is to take those first steps out the door.
Here are some tips to making sure you get your workout done:
Let your spouse/family members in on what your training plan looks like.
Every morning, tell your spouse/family members the details of your workout for that day.
Talk with your spouse/family members and decide what time of the day would be most appropriate to do your training session at.
Keep an eye on the clock so you don't get distracted and miss your window.
Accept the fact that the dishes will still be in the sink when you come home.
When spouse/family member is not home or you don't have childcare, include your children. It's amazing the workout you can get!
Set goals along the way. Share those goals with everyone you know, including friends, social media, physiotherapists, massage therapists, and chiropractors.
Have a positive outlook on the experience. Yes, it will be hard. Embrace the challenge! It's well worth it.
Make it a routine. If everyone in the family sees you training daily, before long, they will be prompting you to go out.
Accept the fact that some days the weather will be sub perfect. Wear appropriate clothing and accessories, such as ICESPIKE.
Most importantly, have FUN!
Whatever your family life entails, the takeaway to this is: make a plan, share it, and execute it with appropriate gear. Involve your family whenever you can. You are their role model and your routine now will create lifetime habits for you and your children.
October Special – LAST CHANCE FOR SAVINGS BEFORE WINTER!
for our subscribers only!
15% off your entire order from now until October 31st
Use Coupon Code: Chantal
Enjoy the fall running, walking and hiking on the trails with Icespike
This email offer may be forwarded – please pass it on!
www.icespike.com Or phone Toll Free: 877-677-3567
Learn more about Chantal at: www.refreshnutrition.com