This was my first experience at a Dances with Dirt type race and also my first 50 miler in 7 years. Below is a quick description on the course from the web site
General DWD Course Information: The footing (What footing?) is rocky, muddy (a few river crossings) and loose in places. The trail is not maintained (non-existent) in some areas. We love this stuff and hope you do too. ILK RULES! Bring on the ILK! ILK me! Is the trail as tough as advertised? Yes and No. It's no run down a nature trail (but at times it is just that), you will get wet and muddy. You won't get swept down stream in any whitewater. Some big hills but no supplemental oxygen is needed. Our descriptions are a disclaimer. All in all, a great run in a beautiful environment…with stupid spots.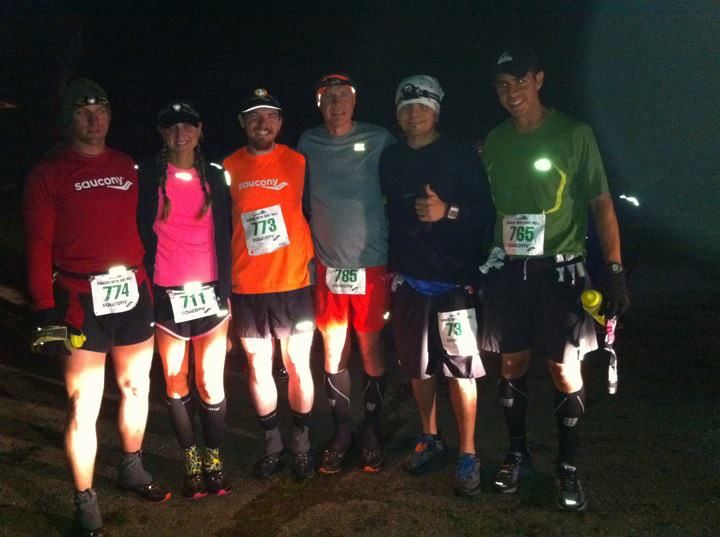 My friends and myself at the start of the DWD 50 miler
I will break my experience as aid station to aid station account. The aid stations are named by the race directors.
ReAwaking 5.30 miles – I told my friends Misty, Frank, Keith, Jose and Tony I was out there to race so I would not be staying with him. So we headed into the dark with cool morning air perfect weather for a ultra. In beginning of any ultra I am usually very tight so the first few miles is used to obtain a rhythm.This section had a clear trail and few hills in it. I had to resist the temptation to start off fast because it was going to be a long day. At the aid station I dropped my headlamp and was off to the next section.
Limbo 4.95 miles – We follow different flag colors depending on what race you are in (relay, 50k or 50 miles). 50 milers started with white flags then blue and finally pink. In this race you need to pay attention to flags because you are not always on a nice define trail. Usually in ultras the course is on well traveled trails so I would tend to "zone out". But if you did that on this course would be lost. I tripped a few times but that is normal for me. May as well get the trips out now than at the end. At the aid station fill my hand held bottles and ate some fig newtons.
This Sucks, Less? 4.75 miles – This section began 2-way traffic which sometimes makes you question if you are going the right way. We make a hard left turn and began to run on some horse trails. Horse trails are different terrain to get through and you are not breaking a speed record. About this time in the race I assess myself: how am I feeling?, what hurts?, how is my aid? and why I am I doing this? I was constantly trying to look for next flags that are tied to the trees. There was about 5-6 people with me at this time so we were able to move pretty smoothly through the course. Arrived at the aid station refilled bottles and had a P&J sandwich then off.
Stripper Pole 3.95 miles – Wicked hill section early includes the Stripper Pole Slide and Dirt Ladder hands assisted climb. I tried to take it easy on the downhills and maintain control so I would not run into a tree or something. I needed to pay attentions to the turns or I would be off on my own adventure. I had a bagel, chips and refilled bottles one with water and one with Gatorade. I get tired of Gatorade after a while and plain water tastes so good.
Styx, River of Death 3.15 miles – Some 2-way traffic in this section then off to the water. My legs were starting to get a little sore so the cold water felt great. The water was up to waist high in certain parts and did not smell that great either. Hope this is not where the town's waste water goes. After getting out for the river there was the aid station with your drop bags. I do not like changing shoes and socks I think it is a waste of time. You are trail runner stay mud and wet. I took a gel shot which tasted horrible as usually and was off.
Bad Out of Hell 2.9 miles – Uphill on a road to start and more uphill on the trail. My shorts, shoes and legs were drying off during this section for the water crossing so they remain nice and cool. Felt OK at this point of race a little tired and a few small cuts on my legs from the plants on the trail.
Potto 6.0 miles – The trail was a mix of hills, rocks and roots in this part. I remember thinking about the miles I had left and wondering what the course would bring me. I was playing AC/DC song "Its a Long Way to Top" in my head over and over. We headed to 50k finish and 50 miler like myself pass the finish line and continue on for another 19 miles of fun. Had a gel shot and refilled bottles at aid stations. I took some fig newtons for the road. I walked about 1/4 mile to eat and drink. My shoulders were sore and tight after carrying my hand held bottles for 31 miles.
Abyss 2.55 miles – Early in this section was black, shoe sucking mud. I tried to put my legs up hard to get out of it only to feel my shoe start to come off. I started a new method walking lightly and no hard pulls up on my leg. The method worked well and still have my shoes on after that part. I was by myself at this point so I have to really keep my eyes open for the next pink flag. I lost the trail a few times but quickly recovered. I pushed myself on the downhills and flats trying to maintain a 9:30 mpm when possible which was very rarely on this course.
Vertigo 5.8 miles – This section felt like it was 20 miles. My mind was getting fatigue and my body too. My saving grace in this part I was pass person who were tired out. Each person I passed provide a little mental boost to keep pushing. I was able to catch up to group of people and decided to ease back a little. I was following one runner when we lost the trail. No pink flags in sight. So one runner went one way and another runner ran other way. The runner found a pink flag on the ground but none on trees. We decided to stay on this path and after about 1/2 mile we saw pink flags on the trees. The runner that was leading me was so upset about marking he took off. I stay with him for a little while but realize he was going to burn out. He was using his anger to fuel his pace which would wear off soon. I just hung back and waiting for that moment and pass him on the hill never to see him again. I was glad to see the aid station and ate some cookies then off.
The Stupid Lake 3.65 miles – Running on this part pretty good was in to a zone. All of sudden trail stopped and when into a lake. I stopped thinking I miss a turn. I look to my left and saw the pink flags tied to the trees along shore and some on plants in the water. I guess this lake section and so I entered the water. This water a few deeper sections than the earlier water crossing. The water was a welcome relief but I was slow moving through it. Aid station had your drop bags to change shoes and sock etc. but you know my thoughts on changing I am out of here.
Don't Get No Better 2.85 miles – Overgrown grass, tree limbs and plants with sharp spikes is this over yet. I was tired of the course by now and starting to trip and fall. What 7 miles a easy run during the week. I told myself over and over again.
Dirt's Revenge 4.15 miles – Hilly and some sharp turns but the end is near, right? Had a few relay runners pass me going the speed of sound. I felt pretty strong but slow. Out of woods and headed toward the finish. Push it will all I had to finish in 9 hour and 2 minutes. DONE!!!