Believe it or not, we are still without snow here in Wisconsin, mid December. Desperate times call for desperate measures. I trail run once in a while for training, but prefer to snowshoe or mountain bike. That wasn't happening today, so I thought I'd trail run with a few Icespikes installed to see how they do without snow or ice. I went to Kettle Moraine North (Purple Trails at Greenbush). This loops was 5.25 miles, my first substantial run since I broke my toe a month ago.
My trail running shoes are La Sportiva Crossleathers. They have a great tread pattern, when they aren't worn down smooth like mine pretty much are. I knew the trail was going to be sloppy with the recent rains and leaves still on the trail. So, why not throw 4 Icespikes on each shoe to see how they do in those conditions? I put 2 near the ball of the foot and 2 in each heel. You'd surely want more for true snow and ice conditions, but this was just right for the day.
As you can tell from the residual mud on my shoes, it was surely sloppy. I really like the additional grip the Icespikes provided in the muck. They saved me from falling on my keister a few times. You really don't feel them in the shoes until you step on rocks or asphalt. There, the Icespikes feel like walking with golf shoes, cleats installed. On asphalt, the Icespikes aren't slippery at all. They grip well. However, the noise is definitely louder than without Icespikes. I could certainly get used to it, especially knowing I was safe from falling.
Installing the Icespikes was pretty easy. I didn't bother mapping out where to install them since the lugs on my shoes make this a no brainer. I had planned on removing the Icespikes after the run because they are my around-town shoes. I guess for the future, I'd mount the socket driver into my cordless drill to make the install/removal faster. If you do this, just make sure to set the torque on the drill pretty low so you don't strip out the rubber.
So, overall, I'm very happy. I can't wait for some snow and ice to really put them through their paces.
Update 12/30/11
We've now had a bit more snow and ice here in Wisconsin. Still not nearly enough to actually go snowshoeing. But at least I'm giving the Icespikes a thorough testing. This time I installed them in my Salomon Wings Sky GTX Backpacking boots. These are my new day hiking boot that I picked up for 4 season hiking. They aren't ideal for Winter, but they are super light and waterproof.
I put in a total of 9 Icespikes in each shoe. That's still less than recommended, but I thought I'd work up to the full allotment.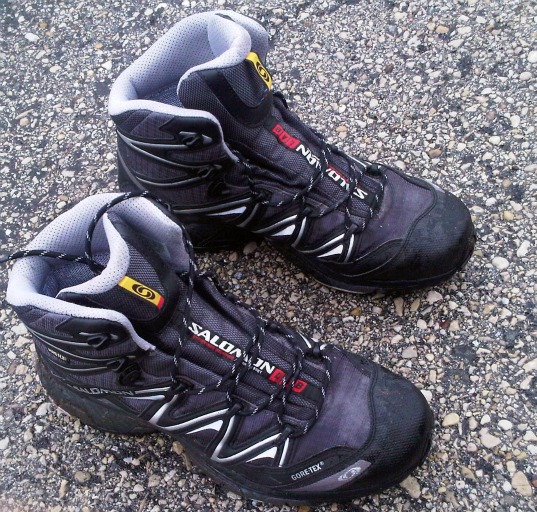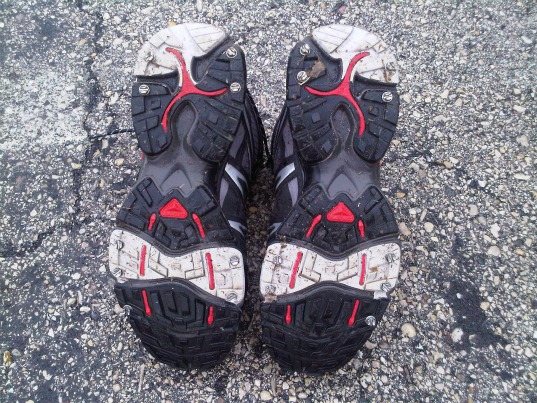 The Ice Age Trail in Greenbush was partially covered in snow and ice today and the ground was frozen. I went a total of 8 miles on rocky, icy, and hilly terrain. The Icespikes, along with my Black Diamond trekking poles totally made the hike possible. I never once had to worry about my footing and wouldn't have wanted to try this hike without the Icespikes. My only regret was not installing more in the toe of the shoe. When hiking aggressively, I lost some momentum to slip because I had no grip up front. That's easily remedied for the next trip.
The wear on the Icespikes has been great. I have about 25 miles on this set of spikes now, and they show very little sign of wear. At one point, i wanted to purposely abuse them to see what would happen, so I scuffed the Icespikes on some glacial rocks. Besides throwing sparks (super cool by the way!), the Icespikes showed no sign of wear from this abuse. I've had no problem with the Icespikes pulling out of the shoes either, despite having less than idea lugs to install them into my Salomons.