Here's what some Ice Spike fans have to say…
I have been awaiting the Winter to arrive here in the UK to try the spikes. Finally it arrived with a vengeance, deep snow and large areas of thick smooth ice. I chose a good solid pair of walking boots and fitted the spikes, then somewhat nervously ventured onto the sheets of ice (I normally only have to step on a small patch and will slip or fall). The spikes are tremendously successful, within minutes I was striding around confidently. Our remote village was cut off by the weather and I had to walk a couple of miles each day for supplies. The spikes coped with ice, compacted snow and exposed sidewalk surfaces without noticing the change or having to adapt my style of walking. Each time I returned I counted the spikes and all were still secure. What an excellent product, thank you for developing and marketing it!
— Mike Beeley, UK
I ran 4 hours and 37 minutes in the HUFF 50k yesterday good for 11th overall out of 172. It snowed the whole race so it was a good test for your spikes. The course is three loops of 10+ miles with 90% trail and 10% road. So after the first lap the snow was getting compacted. The spikes gripped very well especially on the uphills and downhills where the snow had become ice. Overall I was pleased with your product and look forward working with you in the future.
— Paul "Crazy Legs" Stofko, RRCA certified Running Coach
As a big trail runner, I realized how glad I was that I had ICESPIKE installed running shoes last fall running up and down slippery, wet clay trails! The great traction was a thrilling experience! I am also in heaven in the winter, running with my Icespike shoes on steep snow and ice-packed snowmobile trails. I am having so much FUN with ICESPIKE
— Doreen, New Hampshire
My husband and I tried out our new ice spikes this afternoon and they worked just as well as you said they would. They gave us access to walking paths in our local forest preserve that otherwise we would not be able to walk on. We highly recommend them.
— Darlene, Illinois
I just received my ice spikes in the mail yesterday and went out today for my first trial run up here in the Uinta Mountains. I am so absolutely pleased with how well they worked! We have so much snow up here at 8000ft right now and I have been dying to get out and run! Thanks to you I don't have to yearn for spring to come, or even worse get on the treadmill!! What a wonderful product you have created! Thank you, Thank you!
— Lisa Fountain, high up in the Uinta Mountains, UT
I was impressed with ICESPIKE's ability to not only keep my feet from sliding in adverse footing conditions but also how unobtrusive they were when running on dry or bare roads.
— Dane Rauschenberg, Extreme Runner
I have tried all the different products out there without much success…they can't compare to ICESPIKES!! The Yaktrax slipped around on my shoe and the cleats with a rubber "webbing" that slip over the shoe actually made me feel LESS stable on icy or slippery roads/sidewalks. The ICESPIKES give me the confidence I need to walk…with no fear of slipping or falling. ICESPIKES has such a "natural" feel to them and truly grip the snow, slush or ice…other spikes do not work the way ICESPIKES do! I wish I would have had these years ago.
— Mary, Ohio
I just wanted to let you know that I'm loving my new Ice Spikes. I heard about them on a Runner's World forum, and ordered some before Christmas. We recently had some warm temperatures that turned all the packed snow into ice. I can run across anything with no problems at all, even my skating-rink of a driveway! Thanks for getting me off the treadmill this winter!
— Lisa DeWitt, Palmer, Alaska
What a great piece of equipment!! Head and shoulders above any other traction solution. I have to spend much of the winter running inside on a treadmill. HOWEVER once it goes above 20 I can't take it any more and I go back to running outside on dirt roads. The problem is that by the end of February into March up her the roads are 50% pure ice. Running down a logging road in early spring you transition from frozen dirt, to mud to glare ice all within 100 yards or less. The ice spike handles it all.
— Jamie Tierney, Jackman MAINE
Just back from over an hour run. I say ditch your YakTrax and get some ICESPIKES! This system is great. Easy to install and you have no idea they are on -- no added weight. Fantastic! Felt totally confident on the snowy hard packed surfaces (even a few ice patches) -- it's snowing here and every step I took today was on snow.
— Nancy Hobbs, American Trail Runners Association and Running USA
Mid winter "rain" in Soldotna Alaska. No problem with IceSpikes! Me likey.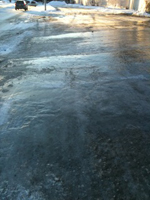 — Angie , Soldotna, AK
Ok, so I put the spikes in my hiking boots the other day and went for my usual two - three mile walks that I do each day. These little guys are absolutely fantastic!!! I found my self looking for ice to walk on just to show off! Prior to these I used the coil on rubber band type grippers. These would break in less than a week and still slipped on bare ice. Now, I can actually look around at the sites rather than constantly watching my feet. Thanks for being so clever! I am now off to sing your praises to all the folks I know.
— Dan
Icespikes are like sheet metal screws on steroids!
— "Trail Monster" Blaine, Maine
First, I'd like to say that I couldn't believe that your product was delivered so quickly! I tried them out this morning; I went through snow, hard slush, ice and wet pavement and never slipped once! Thank you for an awesome product!
— Terri, Pennsylvania
The Icespikes work great. I installed a set on a pair of Merrill Jungle Mocks that I wear when it isn't too cold as a test set. They grip very well, do not slip on finished concrete, nor do they pose a problem inside retail stores with a linoleum floor. We received three inches of hard rain here in Fairbanks earlier this season after which it froze hard. We will have glare ice covering all horizontal surfaces until April when the Spring thaw comes. But most important to me . . . the spikes are not "stripping out" with a significant amount of wear. So I am ordering some more so that I can set-up one pair of snow packs that I wear when it is cold. And I will be gifting a couple sets to friends.
— Jed, Fairbanks, AK
Bought your product at the ING Hartford, CT Marathon Expo because in a race in October, I saw a runner in front of me slip on a bridge covered in early morning frost, totally destroying her knee. That's not for me thanks to ICESPIKE!
— Peter, New York
I first read about Icespikes in a US running mag and had to buy them as I'm heading to Greenland in October for the Polar Circle Marathon. The exceptional customer service I received when the delivery was delayed was simply outstanding. I now have my icespikes and will trial them here in the mountains in our winter, I just can't wait, especially after reading so many positive comments. I'll be posting again after the event to let you know how they went.
— Maybritt Prahl, Sydney, Australia
Ok - I am impressed! Been out the last 2 days in IceSpikes - exactly as you reported, great traction and grip - wouldn't know they are there! Easy to install. Fleet Feet Sports in Boulder now stock them - I ran with my trail group this morning using them, so everyone in the group will be heading to Fleet Feet to purchase now!
— Terry Chiplin, Founder and Head Coach of Active at Altitude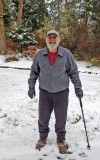 Thanks to your Ice Spikes in the soles of my snow boots I have been able to continue my rehabilitation this winter after having my knee totally replaced. Regaining range of motion and strength requires a dedication to physical therapy exercises and walking. Thanks to Ice Spike I have been able to do my walks in the face of winter snow and ice storms.
— Bob, Washington
Heard about IceSpike in a post on Iceshanty.com last winter, also bought two sets of them last winter. They work so well for ice fishing that I am going to set up a third pair of boots with them, great product.
— Mark Blake, Wyoming
We used the Ice Spikes today for the first time and we do really like them. We were able to run our route without fear of slipping and falling. Just as advertised, there was no uncomfortable feeling for our feet or legs.
— Sue, Colorado
I found out about icespikes when reading rickey gates' blog. Then I went to your website, read through it and thought that the icespikes must, by far, be the best option for running in the winter. And since winter here in finland lasts for a couple of months, I ordered your product. What I enjoy and appreciate the most is the fact, that you can use icespikes on your favourite running shoes and that you don't have to worry/think about slipping/falling. You can fully concentrate on performance and - also very important to me - you can keep up the usual speed, since you don't need to worry about where and how to place your foot in order not to slip. So it's really by far the best option for all of us who want to keep on running throughout the winters. Running in your favourite footwear and keeping up a good pace also in the winter. Perfect! Thanks so much.
— Sergio
We've had a lot of snow here in the UK lately and its been playing Havoc with our training. Were a group of triathletes training for an Ironman in August 2011. We need to get out to train, but its the balance of safe training and trying to avoid injury, as I was running...well sliding on sheet ice I had planned firstly to look for this kind of product or failing that put some screws in and cut off the heads. Thankfully i found you! We are planning a training run in 2 weeks which is a 20 mile cross country and hopefully I will have them by then? I use innov 8 cross country shoes so hopefully this will give me that extra confidence that I'm looking for.
— Richard, UK
hi i have used icespikes for the first time not for running!! just for walking on our snowy roads and icey paths here in th uk just the job 10/10 easy to fit and take off if you need to excellent grip
— john wilkinson, united kingdom
Winter weather here in Canmore Alberta Canada with snow and ice on the streets , pathways and trails . As a result I installed your product on a pair of Saucony shoes and headed out this morning for 10k . Exceptional traction and stability in all conditions I encountered . In the past I have installed hex head screws but there is no comparison between the two . As I have in the past I installed only six in the forefoot of each shoe and this proved to be more than enough to deal with the poor footing . Great product .
— Jeff Platt, Canmore, Alberta Canada
Hi Icespike team! I heard about your product via a discussion board on runnersworld.com. I was searching for different options for running outside in the winter (and I live in Sweden, so there is a lot of winter here!) and saw a rave review about your product. So that's why I decided to try it! I got them in the mail yesterday, and took them for a spin this morning, and really liked them! It was pretty slippery out, and I felt completely secure. I was sure that I would be able to feel them under my shoes, but it actually didn't feel that different, and didn't affect my stride at all. So thanks for the great product! I will be sure to recommend them to my running friends.
— Jessie, Sweden
I am a riding instructor and horse trainer in Vermont (www.breckenridgefarm.com.) Seems I am slipping all over the place this time of year, and unplanned horse skijoring is never safe! A couple years ago, one of my students gave me a bag of your "spikes"....they saved the winter! Any other form of non-slip devices were a pain to put on my boots and never stayed in place. The icespikes made for secure travels leading horses in and out of the barn. When they eventually wore out, I wasn't able to find them anywhere and my student wasn't available to question. My husband is a runner and saw your website mentioned in Runner's World. I am thrilled to find you! I am anxiously awaiting my recent order!!!
— Judi, Vermont
We found about Icespikes from a runner and thought we would try them out. We have been using sheetmetal screws for about 8 years on our hiking boots. We have also tried various strap on spikes, etc. The Icespikes certainly work better than the other devices we have tried. This is the first time I have tried adding screws to my running shoes. The Icespikes work great on them too. They also don't hinder the "feel" of the shoe like some of the strap on devices. Plus we don't have to worry about losing them. Our email address "montanahikers" is just our home email address and we got it because we are avid hikers.
— Jim, Montana
I bought your Icespikes , why not they were inexpensive and i like running outside not on a treadmill. WOW! Best money I have ever spent . I ran 7 miles in ice, snow, packed snow ,slush and mud . I didn't slip once and I hardly knew I had them in my shoes . They even gave me better traction on the few spots of dry dirt I came across. I love these things, easy to install, they don't fall out and great traction. Everyone should get these, the elderly, ice-fishers, hunters, anyone who walks out to their mailbox in the winter. You have a great product and I will continue to purchase. I'm telling all my friends and my fellow runners. Thanks, you gave me my winter runs back.
— Paul
My friends and I do a lot of trail running all year round...so, winter running with the potential for ice made this an ideal product. I put some on my wife's running shoes and she loves them. I order 2 more sets for my other shoes. Also, a couple friends will also be ordering for their trail shoes.
— Steve, Ohio
I live in snowy, cold Eastern Ontario and run about 25 to 30 miles a week. We recently had a flash freeze that was followed by snow. Lots of snow! Running conditions here are treacherous, but not if you're using ICESPIKES. I am so pleased with their performance and the confidence they have given me. Great product!
— Leah MacArthur, Eastern Ontario
I saw your ad in the December 2010 edition of Runner's World, p116. A running friend brought it back for me to read after he did the NY marathon. I'm going to use the Icespikes in the Polar Circle Marathon in Greenland in October this year. I bought the second pair for my mum who will be supporting me. A while ago I sent an email to the manufacturers at spiky.com asking about their product and sizing for their strap on spikes and they never bothered to reply. So very different from my experience with you! There's not much snow in Australia so in winter in August I will spend a few days in the mountains here to try the Icespikes out. Can't wait to receive them, they look great and easy to use. Your video was very helpful.
— Maybritt, Australia
I received my Icespikes last week and had them installed for a run around a reservoir last Thursday. There were patches of glare ice and just about every other slippery condition. They performed magnificently. I was impressed with the confidence they gave me.
— Dennis, Massachusetts
I just received my Icespikes. I saw them in Running Times magazine and the ad in Trail Runner magazine. I also saw that they were voted "Best Outdoor Gear" by Outside Magazine. I love all these aforementioned magazines and respect their opinions. I am going to use these for trail running. I will keep you posted on how well I like your product. I am following you on Facebook and look forward to seeing new posts. Thank you for your quick service. I can't wait to run with my Icespikes.
— Rose Nyenhuis
Found you guys while searching for running spikes and after looking at the reviews thought you seemed the way to go. I run outdoors no matter what the weather but that craziness had caused a repetitive stress injury on the front of my foot from striking off on slippery surfaces last year, causing me to miss a month of running. Since I got my order I've used my new spikes all this week after we had a major snow storm, and even though I'm adding distance to make my 2011 goal my feet feel fine. I'll be back and will recommend them to the runners and walkers brave enough to go all year in snowy southern Alberta.
— Amy, Alberta
Just ordered a set of icespikes for a close friend here in Jackson Hole. I used my icespikes all last winter preparing for the 2011 Boston Marathon. Most of our roads are snow packed all winter long. The icespikes work fantastic on hard packed snow and even give a fair amount of grip on "glare ice". There are no issues on those bare patches of asphalt either, which surface throughout the winter and grow as spring approaches. In fact, the clicking on dry ground is rather pleasant. I have used Yak Tracks before but, in my opinion, they are not as effective, or convenient, as icespikes. You have a great product and I am glad to hear that it is really catching on.
— Mike, Wyoming
The day before the order, I found myself looking at the sky after hitting a sheet of ice on a down slope covered in light snow. I live in a 'snowbelt' near the shores of Georgian Bay and expect much the same till end of Mar. I train outdoors the entire winter in prep for 1st race end of Mar (Around The Bay 30K Road Race). But, mainly for the www.canadiandeathrace.com that I compete in each year as a soloist. An extreme adventure race where you can slugfest in the mountains and swamp for the fun of it! So, I put in a lot of mileage and will look forward to having the Icespikes on my Salomon Trail shoes for added stability in the unknown. I may even use them in the Death Race to assist me on the steep declines and inclines.
— Tom, Ontario, Canada
I am a new runner and this will be my first winter running. I was researching products that would enable me to run outside on trail and snow/ice. I came across an article - http://www.runnersworld.com/article/0,7120,s6-240-323--12421-0,00.html The first comment on the bottom of the article from Dr. Ron recommended your product. I then did a google search for reviews on Icespike, and read only good things about it. I am anxious to try them out, and have already told several of my runner friends about them.
— Corinna, Michigan
My wife and I are now retired but still do some Fell Walking in the Lake District. We have had a lot of ice and snow in the last few weeks, particularly ice on the pavements, so I checked on Google for suitable footwear as some of our friends have had broken arms- elbows - wrists- and I want to avoid this if possible! I was not keen on the slip on stuff as in certain circumstances they did not work properly. I have used crampons in my younger days but did not want to spend that sort of money on 2 pairs! I saw your YOU TUBE advert (and having played rugby in my youth and had screw on studs for a time), I thought your idea was worth a try!! I will let you know have we got on. !Have a happy Xmas and all the best for 2011!
— Donald Brownrigg
I am using ICESPIKE for traction on my snowboard boots. The lift lines get very icy in the spring here in the NW along with the parking lots. I bought boots with little traction this year, and was having difficulty in the lift lines. The ICESPIKES were the only solution as I couldn't put yak trax over my boots and fit into the bindings. I only put them on the toes, so I can slide if I need to or get traction when I want it. They are great! Only problem is that I have gouged up the board a bit, but now I covered that part with foam stomp pads. The other thing we use them for is walking on frozen lakes for icefishing or other activities and they won't fall off.
— Lucy
I was trying to find something better than what I have used so far. I've spent at least $500 on cleats for trekking on icy pavement and have not found any that I've been completely happy with – some products costing me near $100. I thought about just getting some sheet metal screws but I think they would wear too fast for me…I'll try yours!
— Scott, Indiana
ot your product last month, right before an ice storm in MN. Although the temps went up and helped soften the ice the very next day, footing was still precarious and your ice spikes were great! I felt very secure during my run. Didn't slip once! Love them. I found out about them in Runners World Magazine - always on the lookout for winter gear and accessories. So glad I found you.
— Sheila, Minneapolis
One morning after slipping on the ice, my wife got on line to see if she could find something to put on her shoes to help keep her from falling. We saw the video and she said hey - let's give this a try. So we ordered our spikes and just love them. My husband was out running in the snow and a neighbor yelled out be careful you don't want to fall! My husband stopped and showed him his shoes and immediatley our neighbor asked - Where did you get those? He now has his spikes, my daughter has hers and we are all happy walking and running. We live in Central Oregon and the ice spikes are one of the best purchases we have made since moving here.
— Segundo R., La Pine, Oregon
Thank you for your quick response, which can be called unusual in this day and age! I will try to remember to add to your info when I install them on my wife's shoes. She has had both knees replaced and has been worried about falling, during one of our infrequent wet freezing periods, this winter. I searched with "Google" to find all I could, without going to mountaineering crampons of which we have two pair, from our mountain climbing years. I decided that, for simplicity, your product gave the best solution to her fears. She agreed and now we'll see if we both are right. She is 78.9 years old and we don't bounce anymore, but just go "thud" when a fall happens. so avoidance of such is our aim. Thanks also for your personable demeanor on the phone. It made me wish I, or you all (not ya'll meaning one down here), lived closer so we could meet.
— Ernst H., North Carolina
I found y'all through runner's magazine. I live in Kodiak Alaska, and we have serious ICE!! I am very excited about your product. I wish someone made an icespike cover, almost like an ice skate blade cover, as I walk to work, and the minute I get to my hospital, I must deshoe/boot, and walk in my socks to the L&D floor... and luckily I don't need ice spike traction, to catch babies!!! I will be running, and walking in these, so I will try them on my beloved Asics, and my snow boots... Yak Trax, are going to get me killed on the ice we have here!!!
— Bunny, Alaska
I've been able to get in a few runs since screwing Icespikes into the bottom of my shoes and they're amazing! The parking lot for the trails that I run have been a complete sheet of ice since December so I figured as a first experiment I would run across it like a lunatic. I guessed that one of two things would happen; I would either bash my head on the ice but at least be close to my car to drive to the hospital, or they would work and I'd have the first good run I've had since December 25. Since I'm able to type this you've probably guessed that the spikes worked amazingly well. Just this afternoon I ran into two runners that were sliding all over the trail and stopped them to tell them about your great product. After a depressing winter of too much snow and not enough running, I've been able to get out there and put in some miles again. Thanks for the great gear.
— Todd
Your product was discussed favorable…and I thought I'd give it a try. Also, my husband runs too and with one purchase I can outfit both of us – so it seems like a good deal.
— Nancy, Oregon
I was looking for better winter running traction, and found your site through a Google search. In winter I run in Asics Gel Arctics, which have built-in spikes, but a nasty face-plant taught me that I needed something more. I've run in my Ice Spike-equipped Arctics twice now, for a total of about 25 km. I'm very impressed. Great traction, and, just as important, they do not appear to affect my running gait. Other ice-traction products I've tried altered my gait and I ended up with shin splints or worse, so this was an important consideration for me. So far, so good!
— Neil
Thought I would give ICESPIKE a try since here in Wisconsin we just got 18 inches of snow and most of it turned to packed ice with now below zero temps. Wish me luck!
— Jessica, Wisconson
I am making your name known in Slovenia, just this morning I sent the links to a friend of mine. I put your web site address in my FB page a while ago. Then we have a running forum (in Slovene it is called Tekaski forum), all the links have been put there too. Well, if I am satisfied with the product, why not. And guess what; we are getting snow tomorrow afternoon. And I have a week off work ahead of me, plenty of time to try them out. FOLLOWUP REVIEW: Believe it or not, but I got both packages today, one post stamp was dated December 7th and the other one December 17th. And I got to test them too. We went on a hike and I had absolutely no problems. What I like most about having them in my Salomon shoes is the security, not having to worry all the time where to put my feet, Thanks again for everything.
— Polona Mlakar, Slovenia
Have something you'd like to say?
We'd love to hear from you!
Please fill in the form below to submit your testimonial.
Required fields are marked *